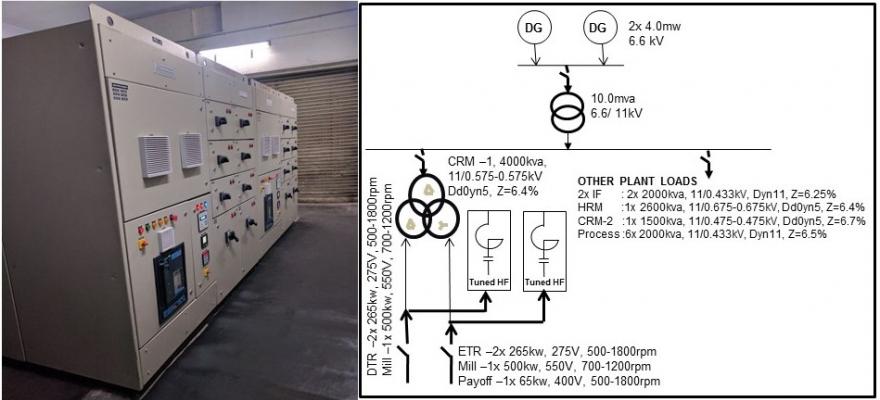 Passive Harmonic Filter
World's all power intensive projects mitigate electrical harmonic using Tuned Passive Harmonic Filter. It's type of Harmonic Absorption Filter. Saves Energy. We are manufacturer of the most valued, super tuned, passive harmonic filter which improves bad power quality and eliminates voltage sag tripping. It's unmatched in performance and delivery. It reaps rewards that you can count on. It reconstructs distorted waveform back into sine-wave. Cleans up your electrical power system from harmonic power surge. Eliminates equipment nuisance tripping and harmonic failure.
1. There's no-one like it before and someone you like has arrived. We pride in manufacturing the most Beautiful Harmonic Filter.
2. Its beauty is a deception. It's a monster. It mercilessly Slashes down harmonics like no-one did before.
3. It's Rough and Tough (IP55) to withstand harsh environment. Unlike active harmonic filter it does not need to be installed inside air-conditioned room.
4. It's 50kA 1sec Short-Circuit proof, and Basic Insulation Level (BIL) compatible. That withhold Arc-Flash hazard.   
5. It's super tuned. That eliminates nuisance tripping and failure of sensitive equipment like in DC Drive, VFD Drive, SCADA/ DCS/ PLC/ HMI, Electronic Card, Computer and Server due to grid voltage fluctuation and sag. Voltage-sag trip costs billions of dollars on lost-production, end-product quality-rejection and re-work for manufacturing industries round the world. 
6. It's bountiful. It Saves energy and cuts your OPEX through energy bill.
7. It's graceful presence in electrical power system cuts the need for Equipment Derating. Running with 100% load-factor cuts your CAPEX through savings in foot-print and project cost.
8. This beauty is for ever. It's designed for a 40-years of life.
9. It's Fully Automatic. Adjusts with process load variation and harmonic distortions in power system.  
10. Thanks to you, our 350+ corporate clients for believing in it and every time rewarding us with Repeat Orders. That over the 25-years has catapulted Encon's Harmonic Filters as the most valued brand in today's world.
If you design your project with Harmonic Filter and look holistically, it reduces your overall investment cost by precluding the need for equipment derating and running with a reduced load factor. Furthermore, if you add all benefits those accrue with it, like enhanced energy efficiency, lower carbon footprint, uninterrupted production, lower MTBF, inventory cost of components, and workforce motivation coupled with the ever rising cost of energy; the economic benefits would far outweigh the cost of the harmonic filter solution.
By designing harmonic filters across a double secondary transformer like in rolling mill, as shown in caption picture, provide solution to several technically challenging tasks those remained unchallenged by peer harmonic filter manufacturers. The most prominent problem is with the forth quadrant operation of the converter/ inverter drive.
While on regeneration breaking mode it feeds back power to the supply bus. But that happens with extremely high harmonic distortions. That generates high current harmonics of above 100%. In turn it lowers PF to below 0.09 lag, and increases voltage harmonics in the power system.
It explains why double-winding converter transformers are hugely derated and operate at a poor load-factor of below 30%. The load factor is the average running load in MW divided by the rated MVA of the transformer. It could be improved to over 80% by mitigating the harmonic distortion by installing harmonic filter at each leg of the double-secondary transformer. It would slash down the size of the transformer and enhance plant's production capacity. The benefits would percolate upstream. That would help in reducing the ratings of upstream equipment like cable, switch gear, grid transformer and back-up diesel generator. It's the Total Power Management at its best by doing your project most efficiently.